Little Nature Explorers
Recommended for ages 2-5 years old
Sundays: 9/17, 9/24, 10/1, 10/8, 10/15
Wednesdays: 9/20, 9/27, 10/4, 10/11, 10/18
9:15-10am
Do you have a Little Nature Explorer at home? 2 to 5 year olds and their guardians can join us at our nature playground for this 5 week series about animals, adaptations, and nature play! Each 45-minute class includes nature-based, child-directed activities, singing, and a storybook. Register for either Sunday or Wednesday mornings. Sign up for the entire series or individual classes. Class is limited in size and will take place outdoors so dress for the weather. Zoo admission is included with ticket purchase.
INDIVIDUAL CLASSES:
Members: $9/adult; $9/child
Non-members: $11/adult; $11/child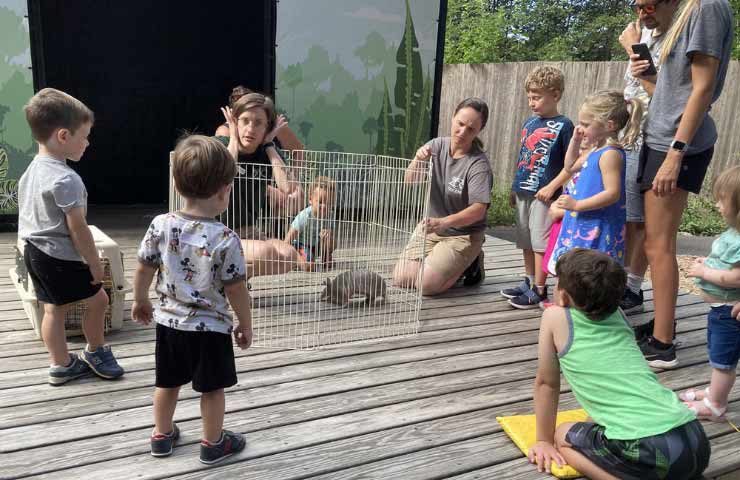 Frequently Asked Questions
What is your cancellation policy?
If you are unable to attend class, please let us know as soon as possible. If you miss a class, you can arrange to attend another class. If you cancel before the class date, you can receive a refund minus a small processing fee ($2 for one class or $5 for the entire session). If you must cancel after the class start date, no refund is guaranteed.
What is your weather policy?
If the wind chill is 13 degrees or below, class will be postponed.
My child is under two years old. Can I sign them up for this class?
Sure! If you have a child between 1 and 2 years old, they are welcome to join us.
Can I bring another adult to class with me?
Yes you can! However, they need to register and pay a fee which covers the cost of admission. Please email education@brandywinezoo.org for the additional adult registration form.
I have an infant who will be attending with their older sibling. Do I need to register them for class?
You are welcome to bring your infant to class with you. If they are mobile and over a year old, we count them as another participant. If your child is under a year old, they can attend for free.