Join us for a WILD Summer!
Our summer camp is designed to provide children the opportunity to learn about animals, zoos, and wildlife conservation. This enriching and educational experience will be filled with Zoo visits, live animal presentations, crafts, games, stories, learning projects, and much more! More importantly, each child will learn the importance of having fun in nature and making new friends! Our camps are geared towards children who are eager to learn, follow directions, and want to have fun. Through our summer camp program, we are hoping to inspire the next generation of wildlife conservationists and stewards of the environment.
Following the guidelines for summer camp set by Delaware Division of Public Health and Governor John Carney, The Brandywine Zoo will be offering summer camp on a limited basis  to accommodate new cleaning protocols, attendance restrictions, and limitations on zoo and animal activities.
If you have any questions, please contact camps@brandywinezoo.org
2021 ZOO CAMPS AT A GLANCE

Week
Day Camps
Ages
June 14-18
Disguises and Surprises: FULL Camouflage and mimicry. Playing dead and acting tough. Learn about animal masters of deception, and the secrets behind their disguises and surprises!
6-8
June 21-25
Animal Super Powers: FULL Animals have amazing super powers to help them survive in their environments! Learn about different animal powers and adaptations through activities, crafts, and live animal encounters.
6-8
June 28-July 2
Wild Designs: FULL How do you build a zoo? What makes a great animal habitat? How do keepers prepare exhibits for more than one species? Learn about what zookeepers do to take care of animals and plan exhibits, and design an exhibit of your own!
9-11
July 5-9
Zoo Science Investigators (ZSI): FULL Investigate the world of behavioral and conservation science. Campers will become researchers and use their observation and investigation skills to better understand animals in our care and in the wild.
6-8
July 12-16
Animal Careers Have you ever thought about a future career working with animals? Discover what it takes to care for, feed, train, study, and work with animals. During this week campers will learn about a variety of creature careers from the experts!
12-15
July 19-23
Wildlife Mythbusters: FULL Can chameleons change colors? Can porcupines shoot their quills? Discover what is real, and bust the myths of the animal kingdom!
6-8
July 26-30
Saving Animals From Extinction (SAFE)  FULL S.A.F.E. is initiative through the Association of Zoos and Aquariums to save endangered animals through the work of zoos, aquariums, conservation groups, and YOU. Come and learn about how zoos save species from your backyard to around the world and what YOU can do to help.
9-11
August 2-6
Art Safari: FULL Discover and be inspired by the amazing art created by animals, or of animals, around the world! Every day we'll create a new project inspired by the wild artists around us while exploring different mediums.
6-8
August 9-13
Conservation Tech From GPS tags to camera traps, high-tech to low-tech, learn about all of the cool technology that conservationists, zookeepers, and vets use to study animals, plus get some hands-on practice!
12-15
August 16-20
ZOOlympics: FULL Every day in the animal kingdom is a competition for survival! Come and learn which animal will take the gold medal for strongest, fastest, sneakiest, or most agile, and try out your skills in our own Summer ZOOlympic Games!
6-8
August 23-27
Continental Creatures: FULL Grab your passport and take off on a journey to learn about wildlife from around the world! Each day we will discuss a new continent and the animals that call it home.
6-8
Day Camps
Day Camps are offered from June 14 through August 23. Each week has a different theme. Registration for each camp will be closed two weeks before the start of that camp.
Camp Schedule
| | |
| --- | --- |
| 8:30am | Camp Drop-off begins |
| 9am | Camp Begins |
| 3pm | Camp Ends |
| 3 – 3:30pm | Pick-up |
School Break Camps
Join us during your day off from school!
Ages: 6-13
Camp Times: 9am-3pm
Drop-off 8:45-9am
Pick-up 3-3:15pm
Our School Break camps offer exciting learning opportunities, zoo tours, crafts, games, and much more! Each camp will focus on a different theme. Campers must come dressed for the weather, as well as bring a bag lunch and reusable water bottle. Pre-registration required. All campers MUST complete a mandatory 14-day health self-screening prior to the start of camp.
Camps may be cancelled if a minimum participant level is not reached.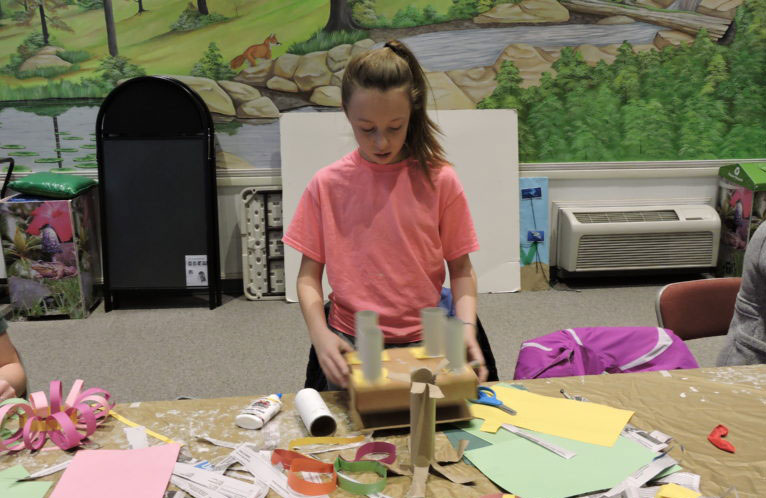 Grab your 'passport' and take off on a journey to learn about wildlife from around the world!
The Continental Creatures Camp-in-a-Box is a mini version of our week-long summer camp that your kids can do at home. It includes five days of themed activities, crafts, videos, and a surprise gift for each day.
CAMP-IN-A-BOX CONTENTS 
Day 1: South America – Condors, chinchillas and more!
Day 2: Africa – Meet the new radiated tortoise, and an animal nicknamed the giraffe cat!
Day 3: Europe and Asia – We're off to Eurasia to learn about red pandas and bees!
Day 4: Australia – Learn about some remarkable Australian reptiles1
Day 5: North America – Let's go back home to learn about who lives in our own backyard!
The Box costs $50 s/h included or $40 if you pick up at the zoo. Have more than one camper at home? More supplies can be included for $20 per additional camper.  Suggested age group is 6-10 year olds.
Questions? Email Camps@BrandywineZoo.org
We are currently sold out.
If you are interested in purchasing Camp-in-a-Box when it is available again, please email Camps@BrandywineZoo.org.