Scarlet Ibis
EUDOCIMUS RUBER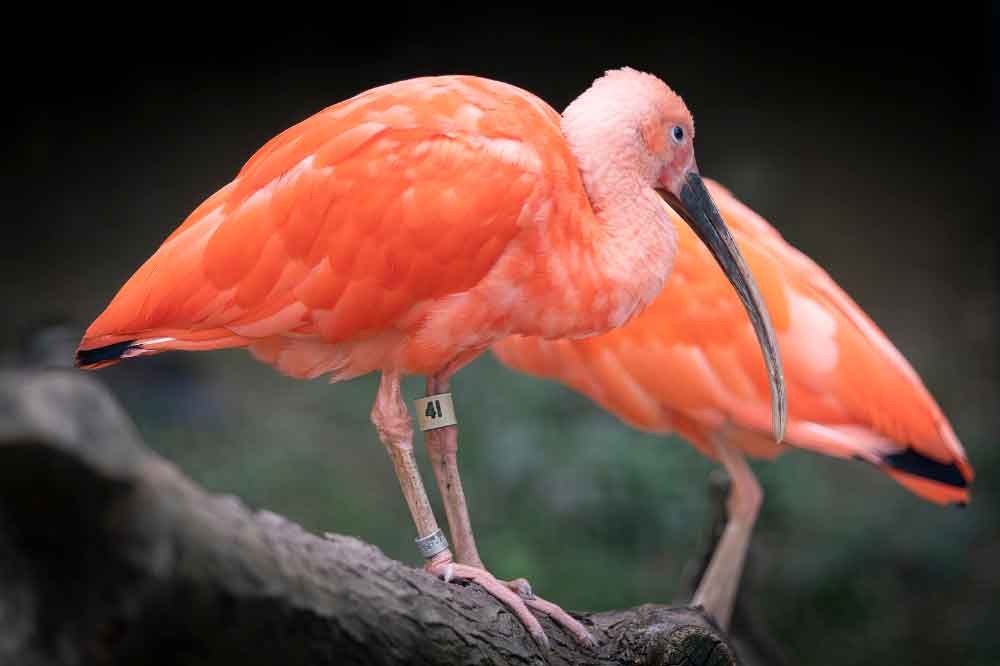 The Brandywine Zoo has four unrelated male Scarlet Ibis: Toby, Rupert, Carl, and Fernando. You can find them living in our South American Aviary habitat!
HABITAT
Tropical forests, mangroves, lakes, wetlands, estuaries.
GEOGRAPHIC REGION AND RANGE
Northern South America from Venezuela to Brazil.
DIET
Carnivore – crayfish, crabs, insects, frogs, fish, mollusks.
PHYSICAL DESCRIPTION
Stunning pink feathers, with slightly webbed feet and thin, down-curved bill.
LIFESPAN
Natural Habitat: 16 years
Under Human Care: 20+ years
THREATS
Scarlet Ibis are threatened by habitat loss when the freshwater and brackish water marshes they rely on for food and nesting are converted for agriculture or construction. They are also illegally hunted for bushmeat and the pet trade. Poachers will also collect their eggs for the pet trade. Though they are currently listed as Least Concern, population trends show that their numbers are decreasing.
STATUS
Least Concern
FUN FACTS
Males and females are nearly indistinguishable from each other, but males are slightly larger and have a longer bill.
The scarlet ibis is the national bird of Trinidad and Tobago, and found on their $1 bill.
Fossils for this species have been found dating back to 60 million years ago!
They are valuable to farmers because of their carnivorous appetite for crop pests.
Young Ibis chicks are able to swim before they can fly!
What are AZA Zoos doing for Scarlet Ibis?
Their zoo population is managed through conservation breeding programs called Species Survival Plan programs, which ensures genetic diversity and species health. While scarlet ibises are not currently endangered, they do face some threats in their natural habitats which include alteration of wetlands, hunting, and pesticides. AZA zoos are working to maintain a long-term, genetically valuable population of Scarlet Ibises through their SSP program.
Images of our Scarlet Ibis