WHITE-FACED WHISTLING DUCK
DENDROCYGNA VIDUATA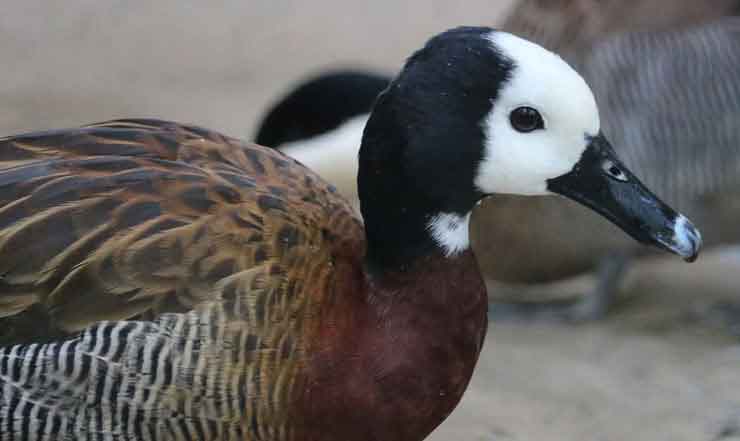 The Brandywine Zoo has four female White-faced Whistling Ducks.
HABITAT
Freshwater wetlands, including lakes, swamps, marshes, large rivers, river deltas, flood-plains, reservoirs, sewage farms (Africa), estuaries, and is commonly encountered feeding in rice fields.
GEOGRAPHIC REGION & RANGE
Isolated populations in North and South America, India, and Sub-Saharan Africa
DIET
Herbivore. Grass, aquatic seeds, rice, pondweeds, tubers, aquatic mollusks, crustaceans, and invertebrates. Mazuri waterfowl pellets, seeds, corn, fruits, shredded lettuce.
PHYSICAL DESCRIPTION
• Adult white-faced whistling ducks have a black and white head and a reddish chestnut brown breast.
• The legs and beak are both gray.
• Juveniles are similar in color to adults, but have a much less contrasted head pattern. They typically have a gray, white or ash-gray colored face, throat, and bottom.
LIFESPAN
Wild: 10-12 years
Under Human Care: up to 15 years
STATUS
Least Concern
FUN FACTS
White-faced whistling ducks are named for their high-pitched whistling calls. These are noisy birds with a clear three-note whistling call.
Most of the time, white-faced ducks are powerful fliers, but they do undergo a brief molting period after the breeding season. They cannot fly while molting and are especially vulnerable to predators.
Male ducks are called "drakes".
White-faced whistling ducks are referred to as dabbling ducks because they feed by "tipping up" – submerging their heads under water with their tails in the air.
What are AZA Zoos doing for Whistling Ducks?
Whistling Ducks are managed by a SSP Program.