Mossy Prehensile-tailed Gecko
RHACODACTYLUS CHAHOUA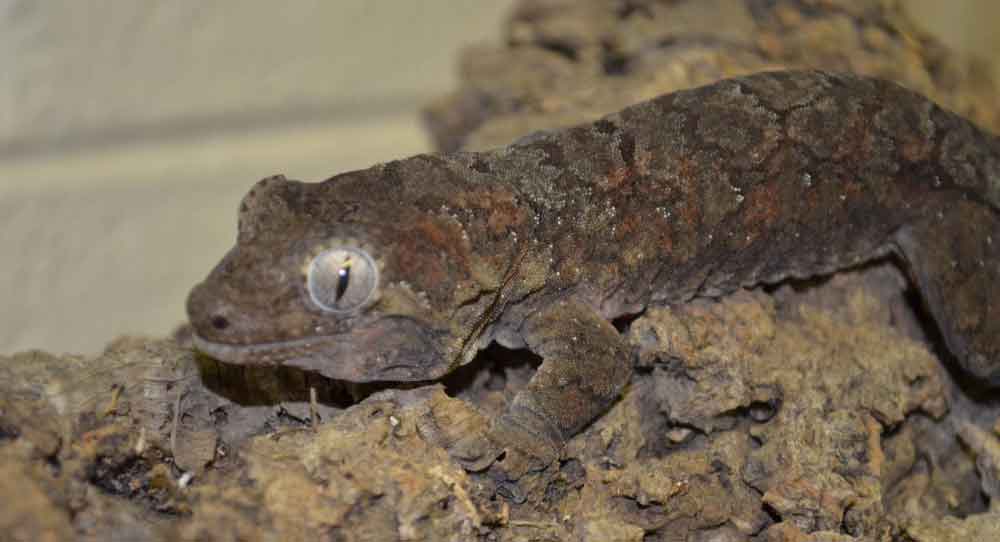 The Brandywine Zoo has three Mossy Prehensile-tailed Geckos, Conan and Plum, who can be found in our Australasian Reptile habitat, and Blintz, who lives behind the scenes and is an Ambassador Animal who assists our education staff with programming.
HABITAT
They are terrestrial and live at elevations up to 500m. This species inhabits gallery and closed forests.
GEOGRAPHIC REGION AND RANGE
This species is endemic to New Caledonia, a French territory off the East coast of Australia.
DIET
Omnivore – They are opportunistic feeders. They will typically feed on crickets and soft fruits.
PHYSICAL DESCRIPTION
Colors range from rusty red and brown to green or gray. There has been some notation that color could possibly be a geographic indicator in this species as the geckos from the outer islands most often display the lighter gray patterns. Their prehensile tail allows it to grip branches and other things for balance while it is climbing.
LIFESPAN
In Natural Habitat: about 15 years
Under Human Care: 20-30 years
THREATS
The primary threat to this species is the continued loss or degradation of forest habitat. This is a particular risk near settlements and along river valleys where agricultural activities are intensifying.
STATUS
Vulnerable
FUN FACTS
Mossy prehensile-tailed geckos get their common name from the moss or lichen-like camouflage pattern it displays.
Females have also been known to guard their eggs, which are laid in clutches of 2 eggs at a time, with typically 4-5 clutches per season.
What are AZA Zoos doing for Geckos?
Henkel's Leaf-tailed Geckos (a gecko relative to mossy prehensile-tailed geckos) have been an AZA SSP program for over 25 years (even though the species was only described in 1990), which recently won an award from AZA for program sustainability.
Additionally, programs like Smithsonian's Bird Friendly Coffee helps non-avian species by protecting their habitats, too!