Hoffman's Two-Toed Sloth
CHOLOEPUS HOFFMANI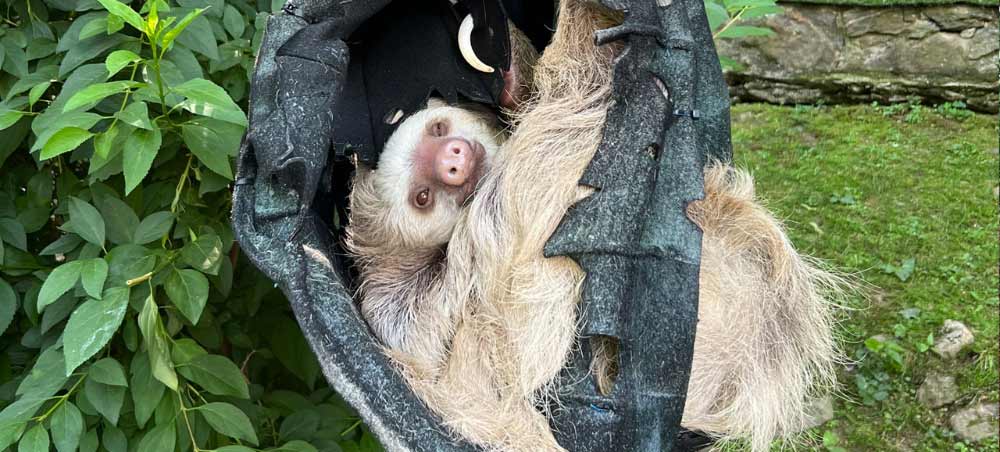 The Brandywine Zoo has one Hoffman's Two-Toed Sloth named Jennifer Lawrence, aka J-Law. She was born in 2015 at Rosamond Gifford Zoo at Burnet Park.
HABITAT
The rainforest canopy of Central and South America in two regions separated by the Andes Mountains.
GEOGRAPHIC REGION AND RANGE
Found in Central to South America, Nicaragua to Peru and central Brazil.
DIET
Primarily leaf-eaters (or folivores) they consume a variety of leaves, twigs, buds, and fruits.
PHYSICAL DESCRIPTION
Hoffman's Two-Toed Sloths are one of the six species of sloths, known for moving slow and resting for up to 20 hours a day! These sloths are mostly nocturnal and spend their lives in the tree canopy. These sloths are recognizable by their shaggy fur and distinctive two toes on their front feet.
LIFESPAN
Wild: 10-15 years
Under Human Care: 30 years
THREATS
Habitat loss and degradation
STATUS
Least Concern (declining)
FUN FACTS
Sloth fur is home to unique species of fungi, insects, and algae that can't be found anywhere else in the world!
This species of sloth is named after German naturalist Karl Hoffman.
Sloths are arboreal and specially adapted to life in the trees. Organs such as the heart and liver are placed differently than other mammals to thrive upside down, and their long claws are hooked to curl around tree branches securely. Sloths only venture from the treetops around once a week to relieve themselves!
What are AZA Zoos doing for Hoffman's Two-toed Sloth?
Hoffman's Two-Toed Sloth are cooperatively managed at many AZA accredited zoos through the AZA's Species Survival Plan (SSP) to ensure healthy and genetically diverse populations while conserving populations in their natural habitats.