Clues at the Zoo
An Escape Room Experience
Saturday, October 7; 4:30-7pm
Recommended for ages 15+
Grab your family and friends and get ready to hunt for clues and solve puzzles.
Dr Marjorie Thicket is at it again!  Her work here at the Brandywine Zoo has come to an end, but for one final trick, she has hidden away the key to the Eastern Sideburns Lizard habitat.  Can you follow her clues to find the keys and get the habitat open again before feeding time?
Join us at the Brandywine Zoo for a special escape room style adventure! Gather your family or friends and get ready to hunt for clues and solve some puzzles. This event is recommended for ages 15+. Snacks and beverages (including alcohol for those 21 and over) will be available for purchase.
Members: $15 | Non-members: $20
For more information contact: education@brandywinezoo.org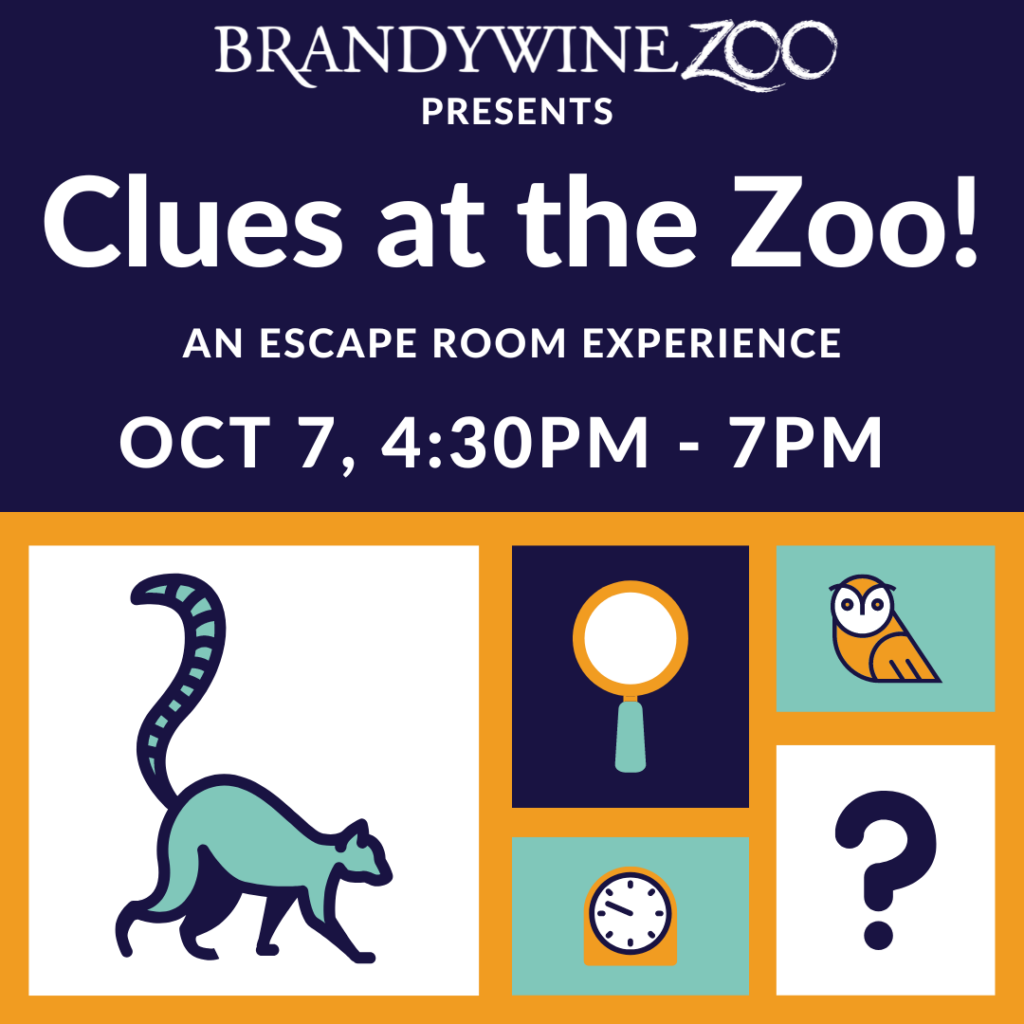 Frequently Asked Questions
I've attended Clues at the Zoo before. Will the puzzles be the same?
No. All puzzles and clues are different for each Clues at the Zoo event.
Is this timed?
No!  Feel free to challenge yourself to get done fast, or take it slow.  Guests are welcome to stay until we close at 7:00 pm.
How long will it take?
That's up to you!  In our previous Clues events, some groups chose to solve as quickly as possible and some chose to take their time.  Our shortest solve time was about 40 minutes and our longest was almost 2 hours.
Can I bring someone under 15?
Yes!  While the puzzles are aimed at teens/adults to solve, feel free to attend as a family.
Do I have to come at the set entry time?
Our entry times are designed to help space out guests in the solving process and prevent bottlenecks.  We ask that you try to stick to your entry time when possible, but you will still be able to participate if you arrive later!