Binturong
ARCTICTIS BINTURONG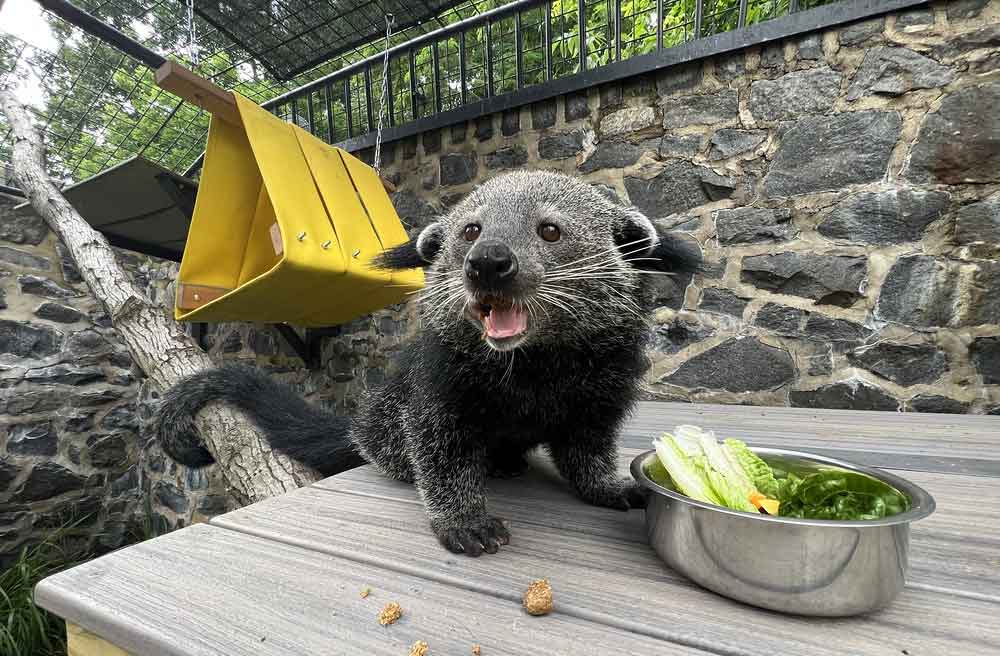 The Brandywine Zoo has two Binturongs, one male named Bintang (meaning star), and one female named Zulla (meaning shade, like the shade of a tree). Both were born in 2022 at Potter Park Zoological Gardens.
HABITAT
Endemic to the dense tropical forests of Northeast India and Southeast Asia
GEOGRAPHIC REGION AND RANGE
Found in in dense forests of Southeast Asia
DIET
Omnivores that feed on small mammals, birds, fish, insects, fruits, and even carrion.
PHYSICAL DESCRIPTION
Binturong have coarse, thick black fur and a long bushy prehensile tail that helps act as an extra limb to grip onto branches while climbing through trees.
LIFESPAN
Wild: 15-18 years
Under Human Care: Up to 25 years
THREATS
Habitat loss and deforestation
STATUS
Vulnerable
FUN FACTS
Binturong urine contains the same chemical compound that gives popcorn its buttery scent. The distinctive smell helps them to communicate with each other and warn-off potential predators.
Binturongs are often called 'bearcats' but aren't bears or cats! They are members of the Viverridae family along with other medium sized cat-like mammals such as fossa and civets.
Binturongs usually give birth to two babies at a time called 'binlets".
What are AZA Zoos doing for Binturongs?
Binturongs are cooperatively managed at many AZA accredited zoos through the AZA's Species Survival Plan (SSP) to ensure healthy and genetically diverse populations while conserving populations in their natural habitats.